Honey Jewellery products and fashion accessories in South Africa are beautiful for any occasion. If you are looking for the perfect piece of jewellery or accessory for a special event or a gift for a loved one.
What you wear is not just the clothes and shoes you put on.
There is so much more to making an outfit your own and to changing the same outfit up for different occasions.
Because the right jewellery and accessories will take you from dull to sparkling in a flash.
A day time outfit of trousers, flats and a blouse can turn into the perfect evening wear. By changing the flats for high heels, adding a pair of chandelier earrings, a bright clutch purse or the right belt.
For work, your evening out little black dress can be made professional by adding stockings. A scarf worn at the neck and a smooth back hair do with a detail hair clip.
There are lots of ways to use accessories and jewellery to improve your wardrobe. So you will find something to suit you in the Honey jewellery and fashion accessory range.
About Honey Jewellery
Honey was founded in 1995 by entrepreneurs Gary Carlisle and Margot Bredenkamp. Who brought good quality, affordable products to the market place.
Honey is a direct selling business that has over 15 000 women to set up their own businesses. Receiving training from Honey and making a small investment.
The company has grown and is now a house hold name. Honey is well known for good quality, exciting products and affordability.
This may also interest you: The Galaxy Jewellery Catalogue
Honey products
It is Honey's aim that all their products are up to date with international standards and trends as well as innovative, beautiful and truly South African.
They offer an extensive range of products for men, women and children.
The jewellery and accessories are made by skilled craftsmen and inspections for quality and good workmanship are conducted throughout the process.
Honey jewellery is generally electroplated 24 ct gold, Rhodium or other high quality metals. The jewellery is allergy safe as it is all nickel free.
There are also some fine jewellery ranges on offer with goods made out of sterling silver. Honey also offers a quality guarantee on their products as well as product care information.
Some of the products on offer include:
Affordable handbags
Watches
Glass based pearls
Brooches with safety clasps
Earrings with stabilisers
Clip on earrings with adjustable hinges and comfort pads and more
Extras and advice
Honey also offers advice on which products suit you best. You can find out on their website which necklines, necklaces and earrings suit your particular face shape and other great tips for choosing the right jewellery and accessories for you.
There is information on how to care for their jewellery to ensure that it lasts as long as possible. They provide background information on every one of their pieces. So you know exactly how they were made which helps you look after them best and which helps you to repair them if it is necessary.
Because Honey believes so strongly in their product, they offer a refund or replacement system where you can return goods up to 28 days after purchase. As long as you bring proof of purchase and the original packaging.
Honey Product Catalogues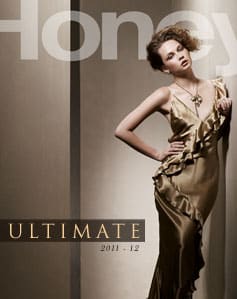 Honey Jewellery and Accessories Catalogues
So Honey has catalogues of products running at the same time. They often have a general catalogue of goods as well as promotional catalogues for events like Valentine's Day, Mother's Day and Christmas.
The website will only ever give you a sample of the catalogues they have on offer and so to view the full catalog, contact a Honey sales consultant or the Honey head office.
Catalogues include accessories and jewellery such as:
Earrings
Bracelets
Rings
Necklaces
Watches
Bags
And more as well as any specials or discount offers that the company is running at the time.